🎁BUY ONE GET ONE 50% OFF !!!
FREE SHIPPING!!   
Are you looking for a toy that your child will surely enjoy?
DEVELOP YOUR CHILD'S MOTOR COORDINATION, COGNITION AND LOGICAL REASONING WHILE HE HAVE FUN!💓
Are you tired of watching your child spend hours and hours in front of the TV, cell phone or tablet? Does he have difficulty concentrating, learning and unable to carry out school activities on his own? We brought the perfect solution to these problems!
✔️ Music function
✔️ Easy to use
✔️ Helps child development
✔️ Parent-child bonding
✔️ Easy to use
✔️ Lightweight
✔️ Perfect gift idea
This Children LED Art Drawing Projector Painting Table is a creative toy that you can watch your child use their imagination and creative skill to design and draw different pictures.
COMPLETE DEVELOPMENT OF THE CHILD'S FRONTAL LOBE 
The images projected by Greatnow have vivid colors that stimulate the development of this part of the brain, such as motor coordination, speech articulation, thinking and planning responsible for cognition, creativity and memory.🎁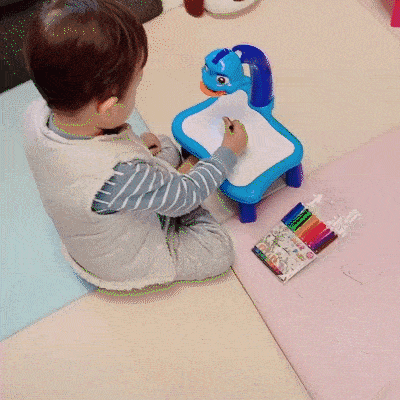 It helps them to learn and master their drawing skills.
FEATURE(S):

PROJECTION & COPY -Turn on the projection switch on the top of the toy, insert the rotating slide and adjust the controller below to focus. Choose the pattern you like and start copying.
DUST FREE DRAWING BOARD - The porcelain plated surface can be used repeatedly, and handwriting can be erased with just a little water. Writing and drawing are clear and smooth, environmentally friendly, and safe.
WATERCOLOR PENS - It equips with watercolor pens of different colors. Let the children enjoy painting and copying.
REMOVABLE - The solid table legs are thickened. Don't worry about the children falling down when the table is not firm when playing, safe and stable.
SMOOTH CORNERS - Avoid accidental bumps and injuries during play. The fine trimming has no burrs and does not hurt your hands.
SPECIFICATION(S):

Material: ABS Plastic, Electronic Components
Battery: 3 x AA Battery (Included)